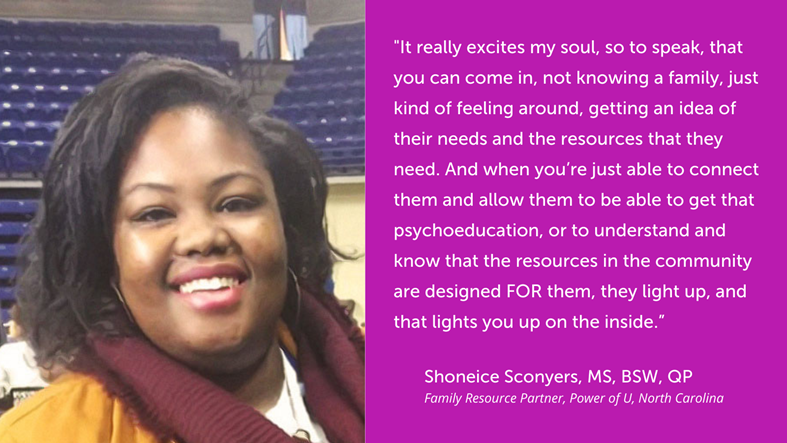 Shoneice Sconyers has a gift for connection. That's what drew her to the role of Family Resource Partner nearly 6 years ago, when the Child First program began at the Power of U in North Carolina. An MSW and self-proclaimed "connector," Shoneice has found the work to be a perfect fit.
"I love building a rapport with the families and helping bridge the gap for them. It really excites my soul, so to speak, that you can come in, not knowing a family, just kind of feeling around, getting an idea of their needs and the resources that they need. And when you're just able to connect them and allow them to be able to get that psychoeducation, or to understand and know that the resources in the community are designed FOR them, they light up, and that lights you up on the inside."
When the pandemic hit, the landscape of available community services and supports seemed to shift overnight. As a Family Resource Partner, Shoneice immediately recognized the importance of staying on top of the changes and worked hard to figure out what was available to families amidst the landscape of the pandemic.
"If the family is in a dire strait, I don't have time to call someone and wait for an update a week later. No, I need information and I need it now."
Each week, Shoneice would call multiple agencies and community partners to stay abreast of the ever-changing information, policies, and referral systems available in the communities where her families live. Staying on top of the resources helps her meet the needs of the families she serves.
"Here at the office, they often call me the 'squeaky wheel' because I really advocate, and I like going in for my families because knowledge is power."
That knowledge and preparation came in handy in late summer 2020, when Shoneice and her partner, Clinician Julie Smith, began working with two different families who were experiencing homelessness. Each had multiple children and a variety of other challenges. One family was living out of their car while the mother searched for work. The other had a young child who had just finished a round of chemotherapy and a mother who was struggling with depression.
Because of the work Shoneice had done to familiarize herself with the available resources and processes, the Team was able to hit the ground running. Within a matter of weeks, they had both families connected to housing and resources. But the work didn't stop there. Now the Team is focused on maintaining each family's stability and healing the trauma associated with their experiences.
Home-visiting with homeless families is challenging under any condition, but doing so via telehealth amid a pandemic adds a whole other dimension of complexity. Shoneice stresses that it's important to meet families where they are – regardless of circumstance.
"We understand that we're in a pandemic but when those needs fly at you and you have a lack of support, we want you to know that we are there to support you, as safely as possible. Your mom, dad, grandma, whoever, may have let you down, but Power of U and Child First is here. We are a village."