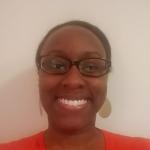 Database Training and Support Manager
As the Database Training and Support Manager, Shameka Johnson plays a critical role in promoting the successful implementation and utilization of the data management systems for all Child First affiliate sites. She joins Child First, after many dedicated years of working for nonprofit organizations and the local government, in our Nation's Capital, serving vulnerable youth, families, and communities. She also has substantial experience providing solution driven customer service and ensuring customers' needs are met through trainings, informational documents and efficiently managing inquiry systems.
Ms. Johnson has worked in both direct services as well as leadership capacities advocating with and on behalf of D.C.'s neediest residents. She has worked as the Information Services Manager on a government contract that managed the information and call center for the National Institute of Mental Health (NIMH). In addition, as a Program Manager for an evidence-based Centers for Disease Control and Prevention (CDC) funded program, which provided individual and group level interventions and HIV and STD testing and counseling services to youth and young adults in Washington, D.C., Ms. Johnson ensured targeted outreach and access to free confidential sexual health services through developing partnerships with the public and charter school systems as well as public libraries. She has also co-taught preschool and kindergarten, for a short time, at a branch of the YWCA in the DC Metropolitan area, and understands the importance of the developing brain of a child from 0 – 5 years of age.
Ms. Johnson received a Bachelor of Arts degree in Communication, with a minor in Education at Trinity College, in Washington, D.C., and possesses a Master of Science in Health Promotion from Marymount University in Virginia.