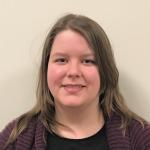 Data & Quality Specialist
As the Data and Quality Administrative Specialist, Kim Cerullo supports data, reporting and quality enhancement efforts to ensure a high level of data integrity and program quality throughout the national Child First network.
Prior to joining the Child First Team, Mx. Cerullo worked in a variety of settings focused on advocating for the needs of children and their families through data analysis and policy change, including the University of Connecticut's Rainbow Center, the Connecticut Women's Education and Legal Fund, and the Connecticut Office of the Child Advocate. During an internship at the Office of the Child Advocate, they investigated the possible causes of youth suicide in Connecticut as well as the resulting impact on the community.
Mx. Cerullo holds a Master of Social Work, with a concentration in Policy Practice, from the University of Connecticut School of Social Work, and a Bachelor of Arts in Political Science from the University of Connecticut.
Contact: kcerullo@childfirst.org